Chris Lange
b. 1948, San Diego County, California
Chris grew up in the rural areas of San Diego, Ca.. Her creative abilities appeared early in her life and she began drawing from a very early age. She spent much of her childhood visiting National Parks in the western United States and Canada with her family. There she learned about nature and geology, honing her drawing skills. Her father taught her composition in taking landscape photographs and the value of perspective from ground level or close up.
She began working in watercolor and then experimented with ink, charcoal, and other media as she studied throughout her high school and college years.
She majored in Fine Arts and received a Bachelor's Degree from San Diego State University in 1970. For economic reasons, she began a 43 year banking career where she learned the art of commercial lending, all the while drawing and painting in her spare time.
In 2007, while working in Laguna Beach, she began actively painting again, encouraged by her gallery and artist customer base. She began using acrylics to add more texture to her work. At that time she began including horses into her landscapes. While primarily self taught, she recognized the need to expand her knowledge and began art instruction in 2014 when she retired from banking.
Her instructor, Phil Journeay, encouraged her to use Oils with odorless mineral spirits. In 2016, she moved to Texas and continued her studies with local artists. In this way, she continues to expand her artistry in expressing the emotions of the American Landscape and the animals that reside within.
"I create the emotions and power I feel in observing nature, wildlife and horses. My paintings represent impressions of the American Landscape and animals that live within. The inspiration comes from the many National Park trips I have visited throughout my life, as well as the many horses I've owned and wildlife that I see and photograph. My desire is to share these feelings with those who view my paintings."
Her current body of work can be seen on her website at www.chrislangeart.com and at the Helotes Gallery in Helotes, Texas.
Memberships:
BPA: Boerne Professional Artists 2017-2020
APA: American Plains Artists 2017-2020 \
Oil Painters of America 2020
2020 Shows
May – July 2020: Virtual online show "Art in Isolation" Write Opera House, Ouray, Colorado
May 9, 2020: Texas Treasures Fine Art, Boerne Tx. "Mother's Day Art Show"
October 17 – 18 2020: Boerne Professional Artists "Fall Art Show", Boerne Tx
Chris's art is available through:
Helotes Gallery
14391 Old Bandera Road
Helotes, Tx 78023
408-838-2656
View Samples of Chris Lange Art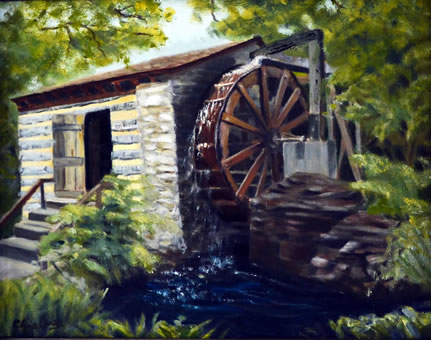 Ye Olde Mill 11" x 14" Oil on Canvas
Rocket 11" x 14" Oil on Board
Chris works primarily in oil on museum quality archival canvas and board.
Landscapes are her specialty with a focus on horses and castles.
Chris accepts commissions for paintings on an individual basis.
---
Artist's Statement
"I have always had an interest in nature and capturing the dynamic play of light in the western landscapes and sparkling off water along the Pacific Ocean. My love affair with the horse, has led me to capture their essence in their distinctive movements, and unique faces. Painting has always taken me away from the craziness of life to a serene harmony of nature."