Chris Lange
b. 1948, San Diego County, California
Chris began her lifelong passion for drawing and painting early in life. In her early years, she visited National Parks in the western United States and Canada with her family where she gained an appreciation of our natural treasures. She received a Bachelor of Arts Degree in Fine Arts from San Diego State University in 1970. Life responsibilities meant working in a corporate job while painting for pleasure in her spare time.
In the early 2000's she began selling her work and included horses and wildlife in her paintings. While primarily self-taught, she embraced the need to expand her knowledge, and began formal training in 2014 changing her medium from acrylic to oils. In 2016 she moved to Texas, and with the encouragement of local artists, was juried into American Plains Artists, and later Oil Painters of America. She was also President of the Boerne Professional Artists and oversaw production of 2 shows for the 2 years she held that position.
Artist's Statement
"My passion is being outdoors among the majestic vistas that inspire my art. Painting plein air gives me the true colors for my work that are sometimes completed in studio from photographs. My photographic library gives me subjects from the Pacific Coast to the Great Plains. The ones that inspire me the most become my next painting. I also paint subjects by request on a commission basis. These include places people enjoyed, Corvettes, race cars, and equine portraits. When I'm not painting, I'm riding or grooming my horse, and visiting National and State parks here in Texas, Colorado, Wyoming, and the rest of the West."
Chris's current body of work can be seen on her website at www.chrislangeart.com and through her Gallery representation at Helotes Gallery in Helotes, Texas.
Memberships:
BPA: Boerne Professional Artists 2017–2020
APA: American Plains Artists 2017–2023
Oil Painters of America 2020–2023
Contact information:
Helotes Gallery, Old Town Helotes
14391 Old Bandera Road
Helotes, Tx 78023
Don Darst 270-274-5223 or Kimberly Verity 408-838-2656
Chris Lange Art on Facebook Messenger and Instagram
View Samples of Chris Lange Art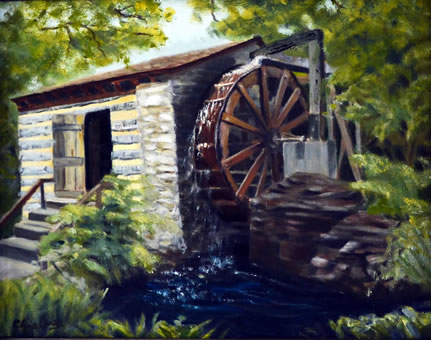 Ye Olde Mill 11" x 14" Oil on Canvas
Rocket 11" x 14" Oil on Board
Chris works primarily in oil on museum quality archival canvas and board.
Landscapes are her specialty with a focus on horses and castles.
Chris accepts commissions for paintings on an individual basis.
---